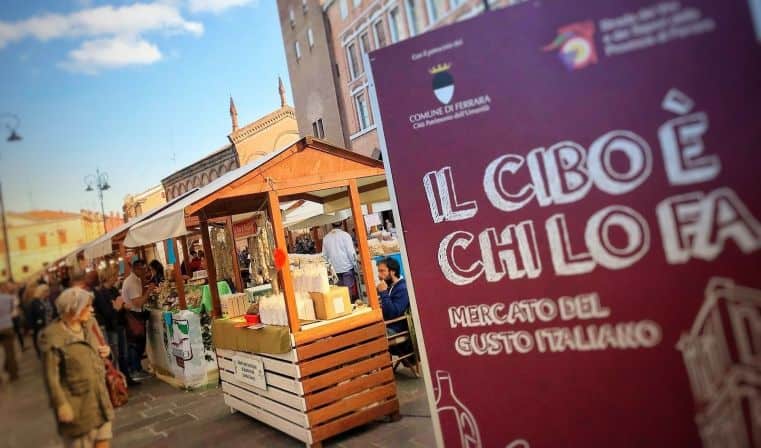 From 6 to 8 October 2023
The Strada dei Vini e dei Sapori della Provincia di Ferrara, under the patronage of the Municipality of Ferrara, confirms the 16th edition of the event "Il Cibo è chi lo fa, literally: "Food is who does it", which will take place in Piazza "Trento e Trieste" from 6 October to 8 October 2023 in Ferrara, from 10.00 to 20.00. three days dedicated to food and wine in the historic center of Ferrara, with the partecipation of local, regional and national producers.
The appointment confirms itself as a deeply felt appointment in the city, an opportunity to meet artisan companies an especially a moment of growth and comparison with the typically Italian production realities.
Italy is known all over the world for its food and wine excellence: splashes of flavors that forms a very colorful and suggestive panorama.
The strong Italian agri-food vocation manifests itself in an innumerable variety of local, provincial and regional typical productions, each with its own tradition, with its own past grafted to the culture of its territory. There are many national products to discover by the words of the producers themselves.
For info on the event: info@stradaviniesaporiferrara.it
Strada dei Vini e dei Sapori della Provincia di Ferrara – Piazza Travaglio 20 – 44121 Ferrara
FB Page Strada dei Vini e dei Sapori della Provincia di Ferrara
FB Page : Mercato contadino di Ferrara
Instagram @StradaViniSapori_Ferrara